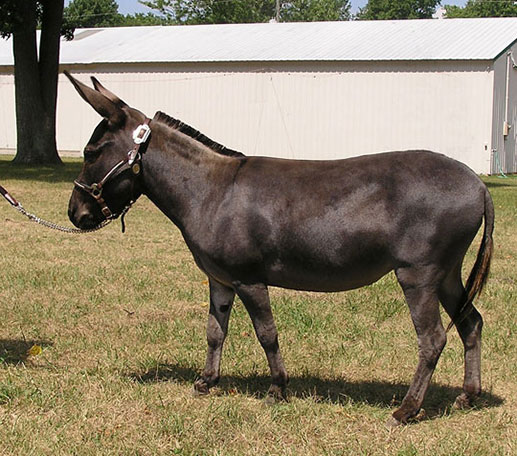 Hawkwinds Teany Cachini
Barn Name:
Cachini
Height:
31 3/4"
Color:
Dark Brown NLP
Foaled
May 21, 2003
Sire:
Bush's Blackberry
Dam
Hawkwinds Blue Tansy
Description:
I took one look at Cachini and went "Wow!", and I still do today. This jennet wow's you from her tiny size, to her exotic color, to her unbelievable conformation. Cachini lands square with every step and shows width between her hocks, even while resting. She is a short-coupled jennet with a beautiful wide full rounded hip; a very broad chest; and a gorgeous head. Cachini entered our herd at 3 years old in the fall of 2006, she had never been weaned from her mother or socialized with other donkeys or people, with her sweet disposition she was easy to win over and we added her to the show string in 2007.
Dam Of:
Accomplishments:
2009
Michigan State Fair Open Show
2nd Jennets 2 yrs & over under 36"
2008
Michigan State Fair Show
2nd Michigan Bred Jennets
2nd Jennets under 36" over 2 yrs
3rd Solid Color Class
2007
Michigan State Fair Show
3rd Michigan Bred Jennets
4th Jennets under 36" over 2 yrs
3rd Solid Color Class
Mid-States Show, Coldwater, MI
1st Solid Color Class
5th Jennets under 36" over 2 yrs